NEW ZEALAND'S LONGEST ESTABLISHED, MOST EXPERIENCED SWIMMING POOL COMPANY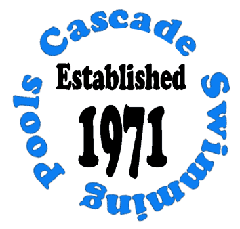 Call us today or click the Brochures or Site Meeting TAB


Looking at the Cost of a home Swimming Pool?
You can't beat a 'Free Solar Heat' inground 95% chemical-free Fresh Water CASCADE pool! Pool water so fresh you can drink it!
We are a family business that can provide FRESHWATER™ swimming pools in most New Zealand places.
21st Century designs that trap Solar Heat. A 'Solar Heated Pool' you might say. We promote low (or no) chlorine or other chemicals - almost 95% chemical free! A beautiful low maintenance pool that your family & friends will enjoy!
No need to look any further! Stay with us - like more than 8,550 Kiwi Families have!
No-one has more experience than Cascade!

The most environmentally aware, lowest maintenance, lowest chemical home swimming pool.
See for yourelf how little effort it takes to care for a pool.

The incredible Aquagenie skimmer system combined with OZONE water sterilisation and 90mm INFILLFOAM refrigeration grade pool wall insulation ensures that New Zealand's Free Heat Source (the Sun) gives you a FREE SOLAR POWER boost to your pool heating.

No more old fashioned pool care, using chemicals, including chlorine, hydrochloric acid, tons of Salt-producing sodium hypochlorite liquid chlorine
are not needed. in your CASCADE swimming pool!! Our Ozonated pool water is "good enough to drink" with no bad tastes or smells!

OZONE and OZONE ASSIST algaecide and simple to use, on-line tips from the Cascade pros on pool service, minimise or even eliminate
the need for Sanitizer use, Shock Treatments, Stabilizer, Super Chlorination, and every other aspect that other pools will need
to produce a happy and clean swimming pool that is the norm with an FRESHWATER Cascade Swimming Pool.
Call 0800 CASCADE for your FREE copy of this valuable reference book
"The New Zealand Pool Buyer's Guide" and color Photo Album.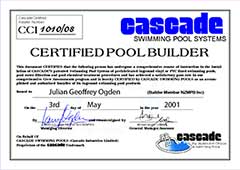 Cascade Founder & CEO Laurence E (Larry) Ogden (021) 749 345
Founder Member of the New Zealand Pool Industry Association Incorporated
.
General Manager & Accounts: Samantha Ogden 0800 227 223

Installations: Julian G Ogden NZPIA Inc Member Cert. Cascade Builder 101/2001

Product: Myles D Ogden NZMPB Diploma Pool Tech, Cert. Cascade Builder 134/2015

Factory & Office Address:
Front Unit 134a Marua Road, Ellerslie, Auckland 1501
FRANCHISE AGENTS IN MOST NORTH & SOUTH ISLAND AREAS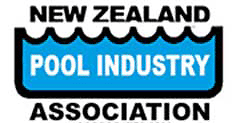 Visitors since 1996