SUCH A CLOSE-UP VIEW IS A BIT MISLEADING, AS YOU DON'T NORMALLY GET THIS CLOSE TO
YOUR SWIMMING POOL WALLS - it's a bit like choosing wallpaper!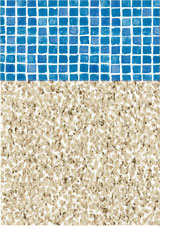 <== Here's what Coral Sand will look like underwater in your swimming pool!
IT LOOKS LIKE A TROPICAL SANDY BEACH, BUT NEEDS A TILEBAND!
THE WATER CHANGES COLOUR PERCEPTION, AS MOST COLOURS WILL LOOK BLUE-ISH DUE TO THE REFRACTION OF LIGHT AT THE BLUE WAVE-LENGTH (WHICH IS WHY THE SKY LOOKS "BLUE")
SEE HOW THE COLOUR "ANTIQUE" LOOKS IN A POOL!
NOT WHAT YOU WOULD EXPECT!